Andrew Hall's World Congress Blog
<![if !supportEmptyParas]> <![endif]>
See also Andrew's Subud Vision workshops report
<![if !supportEmptyParas]> <![endif]>
<![if !vml]>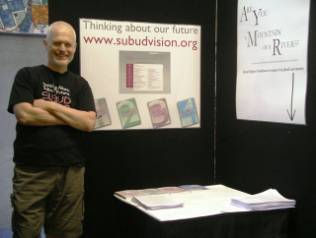 <![endif]>
<![if !supportEmptyParas]> <![endif]>
Andrew Hall is from Eastern Canada. He is the only Subud Vision editor who is attending World Congress. He has a stall there displaying Subud Vision books and publicity material. Towards the end of Congress he will be running three workshops on themes inspired by Subud Vision articles and discussions.
<![if !supportEmptyParas]> <![endif]>
21 January 2010
+++++++++++++++
<![if !supportLineBreakNewLine]>
<![endif]>
Final thoughts on World Congress.
The 25 hours spent traveling between New Zealand and my home in eastern Canada were physically tiring, for sure. Much of the time was spent in reverie, and several strands of thought about the Congress kept coming to me. Here they are:
First, I recalled a conversation with a veteran Subud member from New Zealand who told me that he felt recent Subudvision articles were becoming repetitious, constantly complaining about the same things. Why should I read them, he said, they don't give me anything new. My standard reply at Congress to complaints was to suggest the person try their hand at writing about what they want to say. You're not restricted to what current writers are saying, not at all, I offer. Like attracts like, what do you want to say, I ask?
This time this person replied that what attracted them to Subud in the first place was the promise of open-ended possibilities, the excitement of encountering the unknown.

It's important to me, he said, that I keep that feeling. If I write something, I want it to be from that space. "I guess you also want to read things that you feel are coming from that space," I replied. "I don't blame you. It must be a turn-off for you to read some of the stuff on Subudvision."
One thing I am slowly learning from my 7 years of struggling to learn non-violent communication is how utterly useless it is to immediately begin arguing with someone who is trying to express their own needs and feelings. Yet I still do it almost automatically.

When people share their thoughts and feelings, they don't need to be ignored or told they are wrong, the two messages we constantly give each other (and ourselves) in our day-to-day conversations.

+++++++++++++++

A 2nd conversation was with a young Subud member who told me about something that happened when the national chairs were meeting with Ibu Rahayu. The young member was there to take some photos and overheard one person say that reading Bapak's talks did nothing for them. This brought a reply from someone else that the first person would not even have Subud without Bapak.
The young member was very bothered by this exchange, telling me he thought that he was seeing a yawning gulf open. He felt sick and in a very black space.
Thinking back on this, I wondered about the violence in the way that Subud members talk to each other and wonder if the conversation could have gone differently. My reverie goes like this:
1st member: "I know that for many Subud members, reading Bapak's talks is very important and rewarding. I imagine they are concerned that new Subud members read the talksand get from them some of the things that older members feel they were fortunate enough to get directly from Bapak.

I don't feel the same way about Bapak's talks. And it is important for me to feel comfortable about expressing my own feelings and thoughts. I hope you are able to hear me because I feel I am speaking as someone who values the latihan very highly and cares deeply about the future of Subud.
My own experience of reading the talks is mixed. Sometimes I read something which resonates with me, but not very often. Much of it I find confusing and contradictory and some of it I simply find offensive. On balance, I am concerned that a new member will have similar reactions and end up feeling alienated from Subud because I feel the talks are promoted as something magical and sacred, a receiving directly from God.
I imagine that what I am saying is difficult for some to hear. I wonder if you can tell me how you feel about what I am saying."
2nd member: "I feel very hurt by what you are saying. Part of me is very angry that Bapak who is the source of Subud is accused of saying things which will turn people off.
I find this very disrespectful. Don't you know that the talks are only for those who have been opened and the true benefits require that you listen or read them in a surrendered state?"
1st member: "What you hear me say does not meet your need for respect towards Bapak."
2nd member: "Yes, I feel so grateful about what Bapak has given us. I don't know how you can say what you are saying about the talks."
1st member: "So I guess you are also confused about how a Subud member can think the things I am expressing."
2nd member: "Yes, I think if you really care about Subud, you would respect harmony and demonstrate it. It's important we older members set an example for younger members."
1st member: "So you have a real need for harmony and want to set an example for the younger members."
2nd member: "Yes, I think what I have found in Subud has been so wonderful and I'm afraid it will be lost."
1st member: "So when you hear me say how I feel about Bapak's talks, you feel fearful about losing what you have found so valuable in Subud."
2nd member: "Yes.

1st member: "Thank-you for telling me your feelings about this. I understand it is difficult for you."
At that point, I feel the imagined conversation has run its course and there is no more energy to express. The 1st member has not agreed with the 2nd member's thoughts, but has tried to listen by asking about the needs and feelings that are being expressed or implied. Rightly or wrongly, it feels to me that there is nothing else left to say. Sometimes you just have to sit and let things digest.

+++++++++++++++

Gosh, I wonder if the language we use to talk about Subud can be broadened so both those who need to retain the "Almighty God" language and those like myself who want a secular explanation can feel we are respected and not marginalized or threatened by the other's language.

Only if we can get to that space, I think, will Subud be experience true harmony, a healthy place where I don't feel that I need to keep my mouth shut to avoid offending people.
<![if !supportEmptyParas]> <![endif]>
<![if !supportEmptyParas]> <![endif]>
20 January 2010
+++++++++++++++
<![if !supportLineBreakNewLine]>
<![endif]>
Thinking back to the workshop on 'is change possible in Subud', and how many Subud people find it difficult to talk about Subud, these thoughts come to me.

I mentioned earlier that I found it easy to tell people in Christchurch that I was there because of the Subud gathering. Just like I found it easy before I went to tell my boss and co-workers that I was going for a worldwide gathering of my "spiritual association." where we did "a type of spontaneous moving meditation."

Nice to feel that I'm not hiding something or embarrassed about Subud or finding it difficult to talk about Subud in ordinary language. I think that's the key. Be ordinary and answer questions directly, not dance around and look uncomfortable because they really wouldn't understand what I'm talking about.

I think this is the key. I didn't feel as if I was proselytizing or advertising anything. If it felt like I was trying to convince them of anything, then I probably would feel uncomfortable.

Too bad I don't have a Bapak quote to back me up.

+++++++++++++++

Apropos the above thoughts, how would you feel if your local paper carried an artice about Subud that began like this, "They jump around, cry, laugh, bark like dogs, sing and speak in tongues and have taken over the Christchurch Town Hall to choose their new leader and commune with a higher power." Welcome to Maynard MacDonald's world. (The full article can be accessed from the menu on the Subudvision home page.)

As the chair of the Subud group in Christchurch, Maynard has a troubled history with the press.

From what I gather, it began years ago with a child custody dispute involving a Subud member that and an ex or non member where the person tried to make the case that being a member of Subud was possibly damaging to the children.

Here's a 2005 newspaper article from the major New Zealand paper, The News, based in Auckland:
Christchurch group rejects 'cult' claim
A Christchurch spiritual group accused of being a cult and damaging 115 members is fighting back.
New Zealand News/November 5, 2005
By Yvonne Martin

Helping to lead the charge against an American Psychological Association journal attack on the group, known for its wailing and weeping sessions, is Oscar award-winner Hammond Peek.

Peek is chairman of the Indonesian-derived Subud group, whose 70 members worship in semi-rural seclusion on a 0.8ha block in the Heathcote Valley, near Ferrymead.

After collecting his Oscar for best sound work on the Lord of the Rings film The Return of the King in 2004, Peek described Subud as having a profound effect on his life.

"Through it I find serenity, peace and a closeness to God," he said.

This week Subud was roundly criticised in an article by a Christchurch man published in a journal of the American Psychological Association. Dr Stephen Urlich, who calls himself a social ecologist, raised concerns about the psychological effects of one of the group's cornerstone practices, the latihan (training). It involves "uninhibited weeping, shouting, writhing, moaning and speaking in tongues".

"Laughing, jumping and dancing can occur," Urlich said.

His article raises concerns about depression, hallucinations and violent behaviour allegedly linked to Subud and participation in the latihan, reported in overseas cases.

It quotes a 1964 study of 24 cases known as "Subud crises", including schizophrenic episodes requiring hospitalisation, soon after Subud's arrival in England in the 1950s.

Urlich also fears that children raised in Subud households face potential identity conflicts, and family rejection, if they choose not to join as young adults. He has never been a member but became interested in Subud during visits to the community in the mid-1990s and through connections to members.

Peek, who has also worked on a team recording Peter Jackson's latest film, King Kong, had not read Urlich's report when The Press visited Subud this week. But he talked openly about the group he joined through his wife 30 years ago. Three of his five children, aged 18 to 28, have also joined of their own volition.

"There is no theology, there is no dogma. There is individual experience with a greater power, whether you label it God, Allah or the great life force. I believe those are all one thing," said Peek.

"It's about living in a real human way and being of good character in this world."

Maynard MacDonald, a Subud member for 44 years, rejected the notion that the group was a cult. There were no autocratic leaders and no attempts to recruit members.

"It is the exact opposite of cult," he said. "Cult generally means a charismatic, influential, manipulative, dark, mysterious powerful figure who wants to sleep with all the women and get all the money and wave a Bible at the same time. For us there is no leader."

Subud, founded by the late Bapak Muhammad Subuh Sumohadiwidjojo (Bapak for short), first reached the West in 1956.

It has been in Christchurch since the early 1960s but no efforts have been made to publicise it.

Most of New Zealand's 183 Subud members live in Christchurch or Auckland. There are an estimated 10,000 members worldwide.

Its headquarters in the valley are a humble wooden bungalow marked "Subud Christchurch" and, behind it, the latihan hall. They sit on former orchard land in Bridle Path Road amid upmarket subdivisions and a flower exporter.

Members include nurses, architects, artists, a university lecturer, dentist, postie and agricultural worker. They do not have to denounce their religion when joining Subud.

"Subud is a spiritual thing. It's really like a form of prayer," said MacDonald. "It is something that develops in you and gets stronger and clearer. It is a personal experience which is interesting and useful to have together as a group."

Latihan, held three times a week, is a members-only practice, with men and women in separate rooms. Prospective members must wait three months before they are able to join in.

Fast forward to 2007, when Subud was making arrangements for the World Congress in Christchurch. This was how the local paper in Christchurch was reporting it.
<![if !supportLineBreakNewLine]>
<![endif]>
August 4, 2007
Christchurch City councillors will decide this week if a controversial spiritual group should be granted an interest- free loan of $162,735 to fund a conference.

The Subud spiritual group has 12,000 members in 60 countries and was described as a "charismatic group" by Christchurch scientist Dr Stephen Urlich in a 2005 report.

The group, which has 204 members in New Zealand and 89 in Christchurch, hopes to hold a world conference in the city in 2010.

It has applied for a bridging loan from the city council so it can book the Christchurch Convention Centre and Town Hall for the event before money starts to come in from conference delegates. The loan would be repaid before the conference opened.

The Urlich report raised concerns about a practice in the group known as latihan. According to Urlich, the practice involves "uninhibited weeping, shouting, writhing, moaning and speaking in tongues".

His report also raised concerns that children raised in Subud households face potential identity conflicts and family rejection if they choose not to join as young adults.

Christchurch Subud chairman Hammond Peek, who has won two Oscars for his sound- mixing work on The Lord of the Rings: The Return of the King, and King Kong, said the latihan practice allowed members to "independently receive their own unique form of worship".

He said the group was not a cult. "Subud is an international association of men and women dedicated to the worship of God. Subud is neither a religion nor a cult, does not put forward a dogma or systems of beliefs and is open to people from all religions, cultures and nationalities, as well as those with no religion," Peek said in an email.

A decision on the conference funding request was deferred by councillors just over two weeks ago so more information on the group could be compiled.

A year later, an October 2008 report in Subud World News (found on Yahoo Groups Deutschland) carried this report by World Congress Events co-ordinator Stephen Woodruff:
A bridging loan was negotiated with the Christchurch City Council that allowed us to book the Town Hall and Convention Centre Complex. It was the largest loan of its kind to date from the Council and was passed in spite of some opposition. We were approached during the same period by a reporter from the Christchurch Press hoping to galvanize readers with some local controversy asking if the 'Latihan caused mental illness and a few other problematic themes. We managed to sidestep the issue at the time but this demonstrated the importance of having an on call PR group to meet future press emergencies.

So to prepare for the World Congress, Maynard MacDonald put together a list of possible questions and suggested answers for enquiries about Subud. Here's his effort:

Notes for a Subud Q&A: Copyright Maynard MacDonald 2009

Who asks about Subud?
1. Casual skeptics who think anything to do with God or religion is weird.
2. Insurance adjusters querying the use of the hall.
3. Friends who have no interest in spiritual things but want to know what you are up to.
4. Aggressive journalists looking for a marketable scandal.
5. Professional journalists willing to do a fair but thorough investigative article.
6. Genuinely religious people who ask out of interest but are completely happy with their own spiritual life.
7. Aggressive Fundamentalists who think Subud is the work of the Devil.
8. Neighborhood children who want to know why people make funny noises in the hall.
9. The tax department, taxi drivers, motel operators, and rental companies who happen to deal with us.
10. And rarest of all, genuinely interested people who want to join.

Is the same answer appropriate for each type of inquiry? Of course not, but traditionally we have produced explanations that are not only full of Indonesian jargon but are also too detailed, too long, and produce in the listener the same feelings that arose in the child who when asked to do a book report on a book about penguins wrote, "This book told me more about penguins than I wanted to know."

We need to get over the idea that each inquiry must be handled as though it were from an applicant. People have a great variety of reasons for asking about Subud and it is not insincere, but is actually polite and fitting, to give them an answer that is scaled to the question.

Just for fun, here are a few samples from the list above, but please have a run through the list and try coming up with your own responses so that when the time comes you don't feel that you are being ambushed or caught flat-footed.

1. Casual skeptics who think anything to do with God or religion is weird.
Life is hard. So, I'm into whatever works, and I've found that the feeling of closeness to God that Subud gives me helps me to be a better (father, mother, husband).

4. Aggressive journalists looking for a marketable scandal.
Theories can be discussed endlessly, but Subud is not a theory so it is hard for members to talk about; it is also difficult because it is so personal. Subud refers to inner development inspired by a private act of worship. This is not copy-cat stuff. No other human being is in charge of it, owns the copyright on it, or is getting paid for it. My practice of Subud is God-centered and prayerful. It is as intimate to me as my blood or my dreams. There are idiots and geniuses in Subud and they can be judged publicly on their idiocy or intelligence, but how can their inner lives, their spiritual lives, be codified in the press? These things are inaccessible. And even if someone wants to talk about it, their experience is only their experience- not an adequate definition of Subud.

6. Genuinely religious people who ask out of interest but are completely happy with their own spiritual life.
The experience of Subud is what Christians have traditionally called, the practice of the presence of God. We use the word, 'latihan' in the same way Christians have in former times used the word, 'practice' to describe an active experience of worship. Our 'practice' is a prayerful, intimate experience of absorbing, and being absorbed by the Presence and Power of Almighty God. For Subud members worship is an experience, not a rehearsal of ideas - and in worship - experience trumps theory every time.

8. Neighborhood children who want to know why people make funny noises in the hall.
Those people making noises are expressing something deep in their feelings. Maybe it is happiness, or sadness, or something even more complicated than those feelings. It could be something they don't even have words for, but still they have to voice it in
some way, just like the birds singing at sunrise. Sometimes words are not enough and we also find ourselves singing, or crying, or laughing, or shouting – it just bursts out.

The Hard Questions:
Otherwise known as, 'Reporter Scents Blood!'

Q: We understand that women are separated from men in the latihan, in fact, that women are second class citizens in Subud and need their husband's permission to join.
A: I will answer the second part of your comment first. Although Subud began in Indonesia, at its core, Subud is neither Islamic nor Indonesian. When Subud first came to the West, the application forms were copied from Indonesia, where for cultural and religious reasons; women had to ask their husband's permission to join. On our application we simply ask applicants (men or women) to discuss it with their partners. This is because Subud is transforming. It's a big deal; it really works and will have an effect on one's life. So talking it over with a partner beforehand seems only fair. The last thing we would want is for someone's involvement with Subud to cause disharmony in their relationship.

Q: So why are women separated from men in the Latihan?

A: The latihan is very active. There are no chairs, except sometimes for elderly members. People move and pray spontaneously. The goal is to do this as unselfconsciously as possible. Men will always watch women, and women are inevitably curious about men. The separation takes the pressure off. We do everything else together: running the organization, working, and socializing. Many of the positions of responsibility are filled by women. Subud is a uniquely democratic organization. Any move to treat the strong and independent women of Subud as second class citizens would conflict with our sense of God's grace and generosity to all humankind.

Mental illness and Subud
Q: How would you answer the assertion that Subud causes mental illness?
A: Our current National Chairman is a psychiatrist and as a professional he could comment much better than I. Occasionally, people who are mentally ill bring their illness with them to Subud; however I have been in Subud for 45 years and never seen any evidence of it causing mental illness. It is true that we discourage people struggling with mental illness from joining Subud.

Q: Why is this? It seems unfair if they need help and you shut them out?
A: The experience of Subud is gradually, but deeply, transforming. This process can be gentle, or for brief periods, challenging, even overwhelming. Consider the Biblical account of what happened to the Apostle Paul on the road to Damascus. He was a clever, intelligent, well-grounded man. Suddenly, he had a spiritual experience that was so overwhelming that it floored him for three days. His assumptions and ideas were rattled by a touch from God. He was stunned, and yet inspired, undone, but remade. This experience might have been good for him, but it was not easy. The transforming process of Subud may not be as astounding and momentous as Paul's experience, but it comes from the same source and does the same thing. The latihan is a subtle, ongoing, source of Revelation. Reasonably robust people can keep their lives together while experiencing deep change, but for those with mental health issues - just keeping it together on a daily basis provides challenge enough. This is why we caution and in some cases discourage them from joining.

For myself, I didn't mind the article in the newspaper referred to at the top of this post at all. I actually felt delighted by it although I see how some people could be put off by it. And I sympathize with Mayhard's predicament over the past few years. The 2007 article wasn't that bad but what really hurt was the headline the editor put above it - something like "Cult seeks loan from Council."
<![if !supportLineBreakNewLine]>
<![endif]>
<![if !supportEmptyParas]> <![endif]>
17 January 2010
+++++++++++++++

A workshop on training for helpers! I can't resist. The leader is a young woman from the UK. About 15 of us sit and listen as she outlines the Transactional Analysis model - the three voices - parent, adult and child. The parent voice can be either the nurturing parent "There, there, that's all right" or the controlling parent "You better do that or you'll be punished", and there can be multiple child voices - the free child, wanting to play and have fun; the stubborn child "you can't make me", the adaptive child "yes, yes, I completely agree" etc. The adult voice is non-judgmental and doesn't carry expectations.

In any conversation, we may move back and forth between all three voices or levels. Becoming an adult, she tells us, is about expanding the adult voice so it becomes the space we live in or operate from more often.

When someone speaks to us in either a parent or child voice, at some level it can trigger or hook into the other voice inside us. For instance, a nurturing or controlling parent voice can prompt a child voice inside us. It happens automatically.

Next, we break up into small groups and come up with different scenarios involving helpers - a new helper speaking to a more experienced helper - a helper speaking to a member - a helper speaking to an applicant, a helper speaking to a committee member, etc.

We bring these scenarios back to the large group and take turns role playing them in front of the group. Very powerful and liberating technique, as you move from sitting in a chair at the front, playing one of the roles to changing seats and watching in the audience, then take a turn sitting in the opposing chair and taking on the other role. This is absolutely wonderful pedagogy.

I can feel the voices operate in me. My God, the helpers are so stuck in the nuturing parent and controlling parent voices. Don't they know any other voice to speak to people?

Afterwards, I move through the crowd, listening to snatches of conversation, hearing the parent and child voices in turn.

Thinking back to the talk by Ibu Rahayu, I can see the blending of controlling parent and nurturing parent voices. Alternately encouraging and remonstrating. With someone speaking to you like this, if you accept their authority and power - no wonder Subud members are stuck in a child voice - mostly seeking approval, sometimes sitting sullenly and occasionally getting silly and being the free child.

Yes, yes we want to be good - yes, I can try better to be a helper, yes, I need to work harder at harmony, yes, I am guilty, yes I do love Bapak and am so grateful to him. Yuck!

+++++++++++++++

A brief bike ride downtown to the Canterbury Museum to look for some gifts to take home. My Canadian accent invites questions about my being from where in the United States. One nice thing about Congress is that I find it so easy to easily tell people about why I'm in Christchurch - a Subud gathering, my spiritual group. One sharp lady look at me and asks 'Is this about something inside you or do you connect with something outside you."

I thank her for the question, say that's it's really up to each person to decide what understanding or belief they prefer, adding this is an issue I have long struggled with. I sometimes think being an agnostic is best, I say, smiling back at her. She drops her head and avoids further contact.

+++++++++++++++

An interesting conversation with a Subud member who is a psychiatrist. He joined Subud at 18 in the early 1960s and dropped out later as he while training in medical school. He just couldn't reconcile his training, which required a skeptical, rational, scientific approach to issues of the mind and psyche, with all the fantastic tales he was reading in the Pewartas, the Subud journal in the 1960s. Using the medical model, Subud stories seemed to fit several pathologies.

Several decades later, his marriage ended, then his new girlfriend died suddenly. He felt he was suffering a breakdown and was drawn to renew his contact with Subud. He tells me it was like the latihan never left him. He could now feel the latihan vibration spontaneously during the day. He had dreams he found significant and felt some intimation of Bapak.

I leave him wondering why we have to package the latihan with all these fantastic stories. Who cares how many heavens Bapak says he ascended to? Maybe the lady in the museum shop had the right idea. This could have been all in Bapak's own head.

+++++++++++++++
<![if !supportEmptyParas]> <![endif]>
13 January 2010
+++++++++++++++
<![if !supportLineBreakNewLine]>
<![endif]>
Saturday night - testing with Ibu. I'm not in a great space after her talk to helpers. I have no patience with the Subud mindset - the guilt-tripping, the belittling, the turning Bapak's words into a religion.

Boy, am I surprised! Ibu's first question (not sure if I remember the exact words but it's close) - feel your "I", who you are. 2nd question - your soul, your "I" is connected to a body, feel your body... She let the receiving go on for at least 10 minutes after each question. Especially surprising to me was the receiving after questions about my being a man - example - how do you show love and respect as a man - how do you pray as a man for your mother and father. Again, she let the receiving go on and on.

I completely lost myself. Thank God there was no language that I would put up walls to. Surprising this didn't happen given the types of things she said in her talk. Was it luck, her good judgment or was she being guided? ;-}

+++++++++++++++

A workshop on using writing to help discover yourself. Each participant is asked to write about some mistake they made, and then write about how they would do things differently. One of the participants is a mother of four and grew up in a prominent Subud family. When she was four, her father asked her what she wanted to be and she said an artist, so he encouraged her to draw him something everyday, which she did. Two years later, when she was six, her father asked her if she wanted to ask Bapak what her true talent was. She did and Bapak leaned back and said "an economist." She accepted this and went in that direction as she grew up, but was unhappy. Eventually, she had a breakdown. Now she realizes she should have pursued her interest in art.
That was the mistake. What would she do differently - she would have thanked Bapak but told him she was going to do what she felt she wanted to do.

Silence. Then denial. The next five people who spoke up all excused Bapak, or downplayed what had happened to her, or said what Bapak was offering was only a suggestion and it was her fault that she followed it. These people plainly couldn't accept hearing something which threatened something they have believed in for the past 40 years.

This blind acceptance of Bapak's authority, of the correctness of talent testing, of all that crap, in this case created enormous harm. What we need is a group culture where a six-year old feels powerful enough to tell Bapak that she will do what she wants, thank you very much.

+++++++++++++++

Our final meeting of the Congress working party on external relations was Monday. Imagine a group of 30 people sitting looking at a screen, struggling to jointly edit a report with recommendations for the plenary session. Hilarious. A new member from Austria was beside me and kept whispering in his German-accented English "I have never seen anything like this before!"

One of the recommendations was on language - my sub-group had recommended that Subud develop additional explanations of the latihan that provide a choice to the traditional language explanation so that the latihan is accessible and more inclusive of different cultures and audiences. Tried not to be too theatening, we did.

Instead, it raised all sorts of red flags. A French member complained about people coming into Subud who hadn't been told "the truth" and then left. Guessed he was talking about Leonard Lasalle's group. A UK helper said he was getting all sorts of inquiries from "New Agers" and felt talking about God was very necessary. He insisted that "God" and "worship" be included in any explanation.

This would negate what we were trying to do so I jumped up and found myself saying - "When I was opened, the helpers asked me if I was comfortable using the word 'God' or not. They gave me a choice. Any explanation of the latihan and Subud that is realistic will inform applicants that the vast majority of Subud members believe in God and feel the latihan is a type of worship. We simply want to tell newcomers that belief in God is not a requirement, that there are alternative explanations." That seemed to quiet him down.

Gosh, the compromises that I can make to try and reach a place where everyone feels comfortable.

+++++++++++++++

Life and Congress can't be all peak experiences. Drifted through the day. A very satisfying start doing laundry. Funny how mundane things can give such pleasure.

The evening came and I tremendously enjoyed the classical music concert. The Christchurch Town Hall has a gorgeous concert hall with an enormous pipe organ high up in the front of the hall. When the soloist pulled out the stops in Bach's Toccata and Fugue in D-minor, it seemed like the earth was shaking. That was followed by Mendelssohn's Concerto for Violin and Piano in D-minor. But the climax for me was after the intermission when the Subud choir came out and sang with the orchestra a Haydn mass, next was Mozart's Ave Verum, and finishing with Vivaldi's Gloria in D-Minor.

All was superb but Mozart truly comes from another realm. I felt blessed and alive.
<![if !supportEmptyParas]> <![endif]>
<![if !supportEmptyParas]> <![endif]>
10 January 2010
+++++++++++++++
<![if !supportLineBreakNewLine]>
<![endif]>
This Subud congress brings me many surprises. Friday, I make it to the site by 8 a.m. because I want to witness the testing for the Zone 7 rep (Zone 7 is Canada, the USA, Mexico, plus the Caribbean and Surinam). The helper leading the latihan is from Surinam, a black guy who is a lawyer. At the end of latihan, he says a short prayer and asks us to receive the love of Almighty God. Something about his words seems so sincere, direct and simple, that I feel swept away. Normally, a wall goes up when I hear this Almighty God incantation. Not this time.

Afterwards, I wander around trying to make sense of this. Why did these words have such power over me? I've spent so much time arguing with people that Bapak's words are only words and have no magical power in themselves. Maybe people give their own power to these words, unconsciously, like a type of projection.

+++++++++++++++

Finish Friday morning with a workshop on laughter yoga. Fifty people moving around the room, switching from one person to another in a series of quick exercises, wagging our fingers, making faces, howling with laughter. My diaphragm gets such a workout I'm sweating and completely sore by the end of the hour. The hardest workout I've had in months. Love it.

That afternoon, I miss another laughter workshop. Catch up afterwards with one of the presenters and ask how it went. He tells me they went around the room and asked people for something they wanted to laugh about. One woman says she came to Congress because she wanted to laugh about her son's death. They manage to do it, and she thanks the room with tears in her eyes. I mumble something and stumble away from him feeling like I've been hit by a truck.

+++++++++++++++

I'm the sort who likes to go to workshops and improve the organization. I better be doing it because I get a benefit, because I'm doubtful that Subud is getting any. My focus at this Congress is the working party on external relations. The traditional focus has been on getting involved at the top of the organizational pyramid in the United Nations, which I have little interest in. I'd rather see local Subud groups getting involved in the world. So off I go and spend three afternoons listening to others and adding my thoughts to the hopper.

I actually love this stuff. Makes me think. For instance, a lady from Moscow reports that many people in Moscow have joined Subud after reading John Bennett's "Concerning Subud". The problem is that after they get opened, most of them soon leave Subud. A New Zealand member responds with some suggestions to help Subud retain new members - existing members have to relate better to new members, encourage this by having members test their attitude to a new member. Hopefully, this would open their feelings so the group feeling would be more like a family. Another idea is to provide a focus for discussion and group interaction by talking about Susila Dharma projects.

I remember my own early days in my local group. What I found hard was that after spending half an hour wrestling with my soul, I'd walk out and people were chatting about the weather. Too much of a disconnect. Why can't Subud have a culture where people talk casually about their latihan experience, like at least once a month, please!!
.
Anyway, here's what else my little group talked about on Friday afternoon

- a UK member said information pamphlets or leaflets need to be readily available at Subud houses. The UK national body does not provide leaflets. They need to be purchased by local groups and this rarely happens. Anytime a leaflet is being prepared this sparks a debate about the language to be used.

- A member who attended the recent World Parliament of Religions in Australia stresses the need to have an array of printed products that are commonly passed out, such as business cards with contact info.

- a member, who is also a Quaker, notes the opportunity to participate in inter-faith meetings and activities, and asks once you have contacted people or they have learned about Subud, what do you invite them to at the local group? the waiting period often turns people off. Local groups could create opportunities through music concerts, fun stuff like that- but at some point, it comes down to talking about and answering the question - what is Subud? The Quakers in the UK went through an exercise called QuakerQuest to help members express what is unique about the Quaker experience. The value was that members found it valuable practise to find the words and courage to talk about their spiritual path. It came down to people sharing their own personal experiences, not trying to parrot some official line.

- a UK member suggested that providing a discussion forum on some topic like angels was worthwhile - Many people like to talk about angels and many feel they have personal experiences with angels. The idea is to provide a space and invite others in.

- the NZ member expressed sadness at listening to the different ideas, saying that his local group has many people who have lost their enthusiasm and simply want to just do latihan and not be bothered with anything else. He said we are not reaching people who are now in Subud. This problem is not unique to Subud and the question is what can we do to activate local groups. He pointed out that many of the Subud members in Christchurch are not participating in the World Congress even though it is in their own community.

- a member from Portugal said the Lisbon group have a similar problem - the local committee obtained a large latihan space a few years ago but they had not attracted the members to make the group viable.

- a member from Zambia referred to the experience in Los Angeles where the local group went through a visioning exercise. A UK member talked about the experience in the Lewes group where the group established a space to host cultural events and this was a role that gave Subud a profile in the local community.

- Another UK member talked about the positive experience of Unitarian church groups preparing presentations about themselves and current activities because it promotes connections with other Unitarian congregations

- a UK member talked about a renewal exercise that his local group went through - taking the time to put each member in the centre and then test and share questions for each member about the strengths they brought to the group and how they could connect and support that member - doing 1 or 2 members after each latihan. It took several weeks to do the entire group but was very worthwhile

- the NZ member though it would be worthwhile for WSA to gather case studies of where local groups have done different things, exercise, etc. to renew themselves, and make these case studies available for other groups to learn from.

Some gold among the dross, I leave with my spirits up.


+++++++++++++++

Friday evening, Ibu Rahayu's 2nd talk to the Congress is specifically for helpers, but we all show up. I find it really difficult. I hear a scolding tone, telling helpers what to do, telling them they don't know how to answer members, and insisting on not changing any words of Bapak's talks. My teeth clench.

I look around at helpers who have been doing the latihan for 40 years, who are serious adults and somewhat worldly wise. I think, they don't need to be spoken to like they are incompetent children. When is the handoff going to the next generation? Is she holding on, I wonder?

I also doubt she really knows about the reality of group life in the West, what makes it difficult to keep new members, what might work better. Subud needs some experimentation. Let a thousand flowers bloom, as well as lots of vibrant weeds!

I later ask my psychologist friend from Montreal. He just sat and did latihan, and enjoyed the story that Ibu told about an American who wrote to her asking why he could make the sun shine and the rain fall. Why, he asked Ibu, hadn't Bapak told us in his talks that we could do this?

Funny, yes, but also sad. This is an old man who is isolated and no longer attending a group, delusional. Is Ibu getting her impression of Subud from all the loons who write to her?

+++++++++++++++

The next day at lunch I'm grousing about the Ibu talk and venting away. Another friend, also a psychologist, quickly interrupts and encourages me to take my upset feelings and throw it in the trash. A little bit of psycho-drama ensues in the middle of the dining room, as I roll up an imaginary ball and throw it in the trash, then imagine carrying it to the curb and walking away. I can't believe how quickly this changes my state. I walk out of the room feeling light and frisky. God, feelings affect me so profoundly.
<![if !supportEmptyParas]> <![endif]>
<![if !supportEmptyParas]> <![endif]>
7 January 2010
+++++++++++++++

The Congress opening on Tuesday evening (5 January) was enlivened by a performance of Maori culture. The Haku, the intimidating warrior dance was spectacular - even if the men who performed it were obviously English. The chair of Subud New Zealand had the best line of the night - he spoke of Charles Darwin's impressions of New Zealand, Darwin found the country and its people, both English settlers and native Maori, unattractive. Just goes to show, the speaker suggested, that an intellectual titan who revolutionized our view of the Cosmos could be so very wrong about some very important things. Yes, I thought, just like Bapak.

+++++++++++++++

Ibu Rahayu's talk on Wednesday evening (6 January) was a rehash of her familiar themes - the importance of reading Bapak's talks, approaching the latihan as a worship of God, the helpers needing to take responsibility for the members' latihan.

She said the only worthwhile questions to test are what was your state before you were born, and what will your state be after you die. Memo to self - need to test this. At least if I get something, I'll know I'm alive now.

Found the authority stuff from Ibu very hard to take. I bridle when someone tells me what to do. Alright if she wants to suggest, or refer to her own experience, but treat members with respect, let them try and see for themselves, don't tell them what they feel or should feel.

Also found the blame the helpers' stuff hard to take. It removes the responsibility from the members, makes the helpers scapegoats for Subud's problems and suggests they have the ability and authority to intervene in members' latihans. Don't like it at all.

Always looking for something of value, I did resonate to Ibu's description of the latihan state as a feeling of lightness. When I get to the point where I can surrender, it does feel light, even if it usually only lasts for a fraction of a second before a thought intrudes. The lightness is like being washed.

Also surprised at how frail and old Ibu appeared, also her helpers. Don't know how much longer she can carry on.

++++++++++++++++++++

World Congress is a funny place. Found two members who were actually enthusiastic about Subudvision. One told me we are the only reason she is still in Subud! The other is Hungarian and a true revolutionary at his core - told me the separation of sexes for latihan was the taboo that Subud needs to overcome, and is only due to fear and ignorance. Kinda took my breath away, he did. Yessiree, Bapak's fear and ignorance.

The Subudvision table has fairly good visibility, second stall in the hall outside one of the main latihan venues, right next to Subud Publications International, or SPI, manned by Leonard and Hannah, the couple who run the SPI show. Loads of fun they are. They appreciate the humour that the display panel next to Subudvision is where Abdullah and Salamah Pope are displaying books they want to sell. The first book is by Emmanuel Williams, titled "Loving - Truths about Sex No One Told You." Next to it is "Antidote - Experience of a Spiritual Energy" by Salamah.


++++++++++++++++++++


Found an American who made a special effort a few years ago to find out how Subud measured up as a cult. Told me he read several books by cult deprogrammers or exit counsellors to help him compare the Subud culture with their experience. Told me he felt Subud was a "weak" cult but definitely fit the bill in some areas - such as name changing. I was surprised that he took the time and energy to find all this out for himself. Tried to recruit him to write about it for the Subudvision website. He seemed interested.

His case, and many others I am talking to, convinces me that there are many dedicated Subud members who really care about Subud and sincerely want it to change. This leaves me with a very good feeling.
<![if !supportEmptyParas]> <![endif]>
Comment sent in by Michael Rogge re cults and sects
<![if !supportEmptyParas]> <![endif]>
I attempted to define sect characteristics on my webpage: 'On the psychology of spiritual movements': (http://www.xs4all.nl/~wichm/psymove.html)
<![if !supportEmptyParas]> <![endif]>
<![if !supportEmptyParas]> <![endif]>